I love island life. Laid back and relaxed. I love the sound of the waves and soft sand under my feet. I love the feeling of serenity as I watch the sun rise or set on the horizon. Fresh air, a sense of tranquility. Nothing beats an island vacation to rid the mundane routine and stress of daily life.

Malaysia has many popular beaches or islands such as Penang, Langkawi, Pangkor, Tioman, Redang or Perhentian but how many of us have actually been to a private and secluded island getaway? Let's have a look at some of these hidden treasures.
1. Tiga Island (aka Survivor Island)
The island is one of a group of small uninhabited islands in Kimanis Bay, situated 10 km off the West Coast of Sabah. There are trails, plenty of trails on the island (including one that leads to a mud bath). It may not be your typical luxury island getaway but this uninhabited place will certainly let you escape from reality.

The islands were formed on 21 September 1897, when an earthquake on Mindanao caused a volcanic eruption near Borneo.

Make your way to the district of Kuala Penyu and hop on a boat to Tiga Island! The island's claim to fame is none other than being the first ever 'secret' location for the hit reality series, 'Survivor'. Hence, many refer to Tiga Island as Survivor Island. You can enjoy a day trip to the island but many recommend spending at least a night or two.

There's plenty to see and do here: spend the sunny days swimming or snorkeling in its surrounding clear waters or go kayaking. Divers can explore its underwater treasures (diving courses are available).
Tiga Island is also famous for its therapeutic natural volcanic mud. Warm mud bubbles form geometric vents around the island. These warm mud bubbles are actually very popular among visitors as they now use it as an authentic outdoor spa (soak your whole body in it).
2. Tenggol Island
Tenggol Island is one of the most beautiful islands in east coast of Peninsular Malaysia; known for its perfect waters warmed by South China Sea. The small and compact island is a forgotten gem set in the clear blue waters of the South China Sea - an emerald of deep, green forested interior flanked by white powder beaches and beautiful reefs. This natural island with beaches saturated with pristine warm water is a divers' and snorkellers' paradise.

At Tenggol Island, divers and snorkellers alike can find pristine coral formations and a number of submerged rocks with excellent coral growths. Tenggol and its surrounding islands offer good visibility teeming with marine life, including sharks, rays, nudibranch and a wide variety of hard and soft corals.

If you are looking for a quiet getaway and want to feel like you're on your very own private island, then Tenggol island is the place for you to visit. It is an island located off the coast of Terengganu and it can be accessed using a ferry from Dungun.
3. Sibu Island
Sibu Island is a small hour glass shaped island in Mersing District, Johor. It is actually made up of several islands namely Sibu Besar Island, Sibu Tengah Island, Sibu Kukus Island and Sibu Hujung Island.
Sibu Besar, the main island, is approximately 6 km long and 1 km wide, and for the most part covered by tropical vegetation. On the southern end there is a small fishing village called Kampong Duku with a population of fewer than a hundred people (about 40 families).
The main leisure activities on the island are watersports such as snorkelling and diving - not surprising since the area was designated a Marine Park in 1993 and numerous coral reefs are close to hand.
There are four main beaches on the eastern side of Sibu, where most of the beach resorts are located and most of the resorts are closed during the annual 3-month monsoon period, save for those facing the mainland.

On a clear day, you can actually spot Tioman island from this island. The gently sloping beaches on Sibu Island are ideal for swimming and there are many coral reefs PLUS the waters are very clear.
Just off the coast of mainland's Marang lies Kapas Island. Kapas means Cotton, a name given to the island by locals, due to its soft white beaches. Snorkellers and scuba divers visit the island because of the beautiful, calm waters filled with a variety of marine life.
There are a variety of dive spots here, including a World War 2 shipwreck.

This island can be reached by taking a ferry from Marang, Terengganu.
Rawa Island is a coral island in Mersing District, Johor. It is popular with tourists from Malaysia and Singapore, who come to enjoy its relatively unspoiled white sandy beaches, snorkelling and scuba diving. There is a daily ferry service from Mersing.

"Rawa" is the local term for white doves, which are abundant on the island.

Rawa is a relatively small island. There are no proper roads, only a few walkways. One side of the island is a beach covered with white sand, while the other side has a rocky vertical cliff. The water is clear. There are many sea and land creatures such as fishes, squids, jellyfish, octopuses, Malayan sea eagles, and reptiles. Also Blacktip Reef sharks can be found feeding in the sea off Rawa. Rawa's waters are home to an abundance of corals. There are only 2 resorts on the island

As this island is small, it is rather secluded as well. In other words, going here is all about relaxing.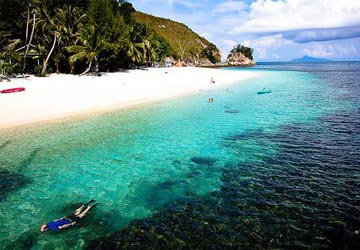 6. Dayang Island
It is located on the west side of Johor Bahru. Dayang Island is actually a part of an archipelago of 4 islands namely Aur Island, Lang Island and Pemanggil Island.

Dayang Island is famous for its diving sites. Most tourists visit this island for scuba diving and snorkelling experiences. While scuba diving, it is easy for one to see the underwater wildlife such as whales, sharks and rays etc. You can try your hand in underwater photography while snorkelling or scuba diving. Diving courses are offered to those who are passionate about it or for the beginners before they dive in the crystal clear waters of Dayang Island.

The ideal diving season is normally from the month of February to November. There are many diving sites around for you to choose from. Some are shallow reefs and some are deep rocky depths.

Drive yourself to Mersing Jetty which is located in Johor. There will be a boat waiting at the jetty to take you to this breathtaking island.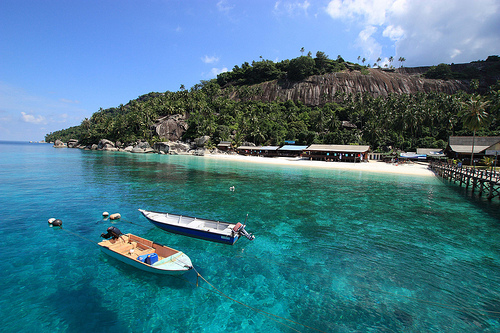 7. Gemia Island
Gemia Island is a privately owned island, about 800 metres off Kapas Island. Gemia Island has white sandy beaches, crystal clear water, beautiful corals and marine life as some of it's natural pristine assets.

The island is only five kilometres from the east coast of peninsular Malaysia, Gemia Island is easy to miss on a map. It is a tiny, rocky island covered in lush tropical greenery and fringed by curves of pure white sand. While this small gem may easily be overlooked, it will not be easily forgotten.

In Kuala Terengganu you can either charter a taxi or a van to take you to the Marang jetty.
There are many boat services to Gemia Island at the jetty in Marang.

The island is considered one of the most beautiful island getaways in this part of the East Coast. With patches of virgin forest covering the rocky hills in the centre, crystal-clear waters and spotless golden beaches, the resort is among the few destinations in the country still unspoilt by development.

And take note, there is only one, yes ONE resort on this entire island. Talk about tranquility!
So there you go...a short list of islands here in exotic Malaysia you would probably have never heard off but if you have heard of it or been there, or know of any other islands worth mentioning,do share your comments here please.
Sources :
Wikipedia,
Wikitravel,
Sabah Tourism,
Johor Tourism,
Terengganu Tourism